About Ryda Gård
Ryda is an old-fashioned hamlet where the houses were built in a row, as in Astrid Lindgren's Bullerbyn. The farm is situated by the big lake Åsunden with a fabulous view over the lake. High mountains, large forests and meadows around the farm offer great nature adventures.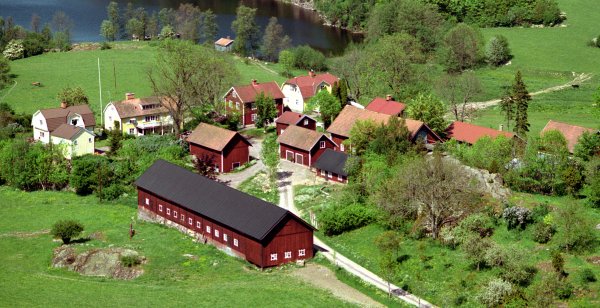 We enlarge and can now offer accommodation in one more house
Dec 23, 2008
Gäststugan (the guest cottage), which we plan to have ready by middle of April 2009, will be of the same size as Loftstugan (the loft cottage). The only difference is that Gäststugan will have two separate bedrooms. There will be one bedroom on the first floor with two single beds and one bedroom on the ground floor with two single beds. The sofa in the living room on the first floor can also be converted into an extra bed. There is of course a fully equipped kitchen as well as WC/shower. You can already now book Gäststugan online. Gäststugan
New dining-room in the farm restaurant
Nov 03, 2008
During 2008 we increased our restaurant with a new dining-room and we now have seats for 45-50 guests. For bookings and more about the restaurant read here.