About Ryda Gård
Ryda is an old-fashioned hamlet where the houses were built in a row, as in Astrid Lindgren's Bullerbyn. The farm is situated by the big lake Åsunden with a fabulous view over the lake. High mountains, large forests and meadows around the farm offer great nature adventures.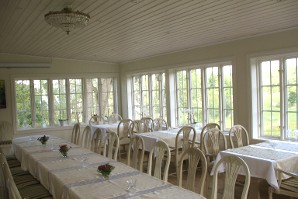 Gårdsrestaurangen
In the fully licensed restaurant you can enjoy food from the neighbourhood, fresh-caught fish from Åsunden, game from the woods e g moose, deer, roe deer or wild boar as well as wild berries and mushrooms. The restaurant offers anything from a simple meal to buffets and 3-course dinners. We can also arrange parties and celebrations to fit your requests.
Information and booking.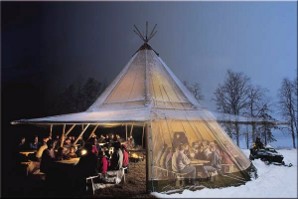 Moskoselkåtan
Why not try an unusual grill party in the Moskosel Lapp cot. There is room for up to 60 guests and there is a big fire place in the middle of the tent that you sit around. Here we can guarantee a really great experience, something out of the ordinary!
Information and booking.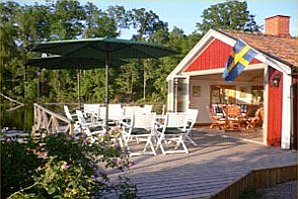 Café Sjöstugan
In the "Café Sea Cottage" you can enjoy a cup of coffee/tea, ice cream or something cool to drink right on the shore of the lake Åsunden. Please contact us for information, opening hours and booking.
Information and booking.